Proposed Assisted Living Building
An assisted living facility is proposed to be built on the south side of Holman Road NW between 3rd Ave. NW and 4th Ave. NW.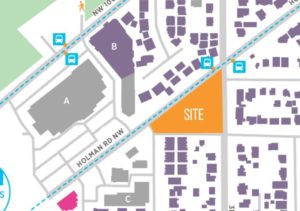 The proposal is for a five to six story structure containing 95 assisted living units and retail at ground level. Parking for 51 vehicles to be provided below grade. Existing structures to be demolished.
Design Review Meeting
Date:           Monday, December 4, 2017
Time:           6:30 p.m.
Location:     Ballard Community Center
6020 28th Ave NW
Sunset/Captain Ballard Room
The design proposal is at http://www.seattle.gov/dpd/AppDocs/GroupMeetings/DRProposal3027225AgendaID6635.pdf