SPU working in Broadview on Monday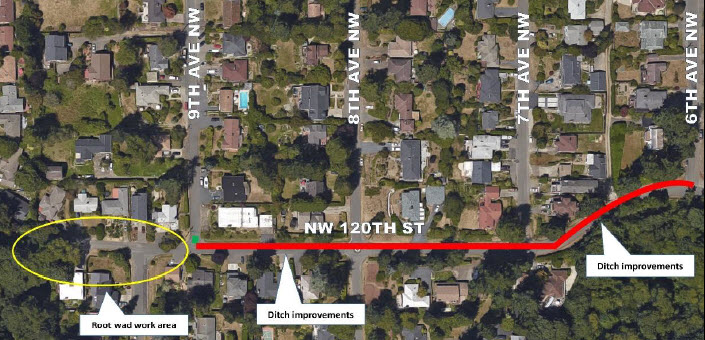 A Seattle Public Utilities' contractor will be on site as early as Monday, March 13, to help stabilize the slope near the new outfall into Mohlendorph Creek. February's heavy rain and snowfall caused an area of the creek bank to erode, leaving the outfall vulnerable. To stabilize the slope, the contractor will use a crane to insert a root wad into the eroded area and will backfill gaps with river rock. Root wads are old tree trunks that still have roots attached. They are commonly used to stabilize creek banks and create a natural habitat for juvenile fish.
If the weather is permitting, the crew will also start the final ditch-and-culvert system improvements along NW 120th Street. This work requires a week of continuously dry weather.
 SCHEDULE
Work is expected to begin as early as Monday, March 13, and may take up to 15 working days to complete. This includes the slope stabilization and ditch rehab work. Construction hours are expected to be Monday through Friday, from 7 a.m. to 5 p.m.
 LOCATION
Slope stabilization work will take place west of 9th Avenue NW near the end of NW 120th Street. Ditch-and-culvert system improvements will take place along NW 120th Street near 7th Avenue NW and between 8th and 9th Avenue NW.
 ANTICIPATED IMPACTS
One lane of traffic may be closed intermittently on NW 120th Street
Temporary parking restrictions
Dust, noise, and vibrations
Construction equipment and crane in the right of way during the construction window
 FOR MORE INFORMATION, CONTACT:
Arnel Valmonte, Project Manager, at 206-615-1438 or arnel.valmonte@seattle.gov