Best wishes for the Holiday Season.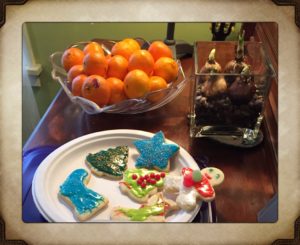 Here are a few fun events around town.
Christmas ships parade:
December 13 – 23, 2016
Lake Washington & Puget Sound
Ride onboard with the choir or listen from shore at a bonfire during Christmas Ship Festival. See schedule.
Reindeer & model trains:
December 13 – 24, 2016
Visit live reindeer and watch model trains wind their way through a winter landscape during the Reindeer Festival at Swansons Nursery. Free.
Christmas play:
December 13 – 28, 2016
A Christmas Carol is Charles Dickens' holiday classic about the amazing transformation of miserly Scrooge at ACT Theatre.
Winter at Seattle Center:
December 13 – 31, 2016
Enjoy holiday lights, skating at Fisher Pavilion (cost), folk dancers, carolers, dancers, ice sculptors, model trains, and entertainment during Winterfest at the Seattle Center.
Gingerbread houses:
December 13, 2016 – Jan. 1, 2017
See elaborate displays made mostly of food at the Gingerbread Village in the lobby of the Sheraton Hotel. Free and open 24 hours.
Santa Lunch Cruise:
December 17, 2016 (noon)
Santa Lunch Cruise includes two hours of views on Lake Union and Lake Washington, a lunch buffet, kids' activities, and a visit from Santa, departing from Waterways Cruises on north Lake Union.
Christmas lights – Seattle zoo:
December 13, 2016 – Jan. 1, 2017
WildLights has 500,000 lights in animal shapes, real reindeer, night animals, and carolers at Woodland Park Zoo. Closed Dec. 24 & 25.
For more events, check out: http://www.events12.com/seattle/
Warm Regards
Susan