A Great Loss to Our Broadview Neighborhood
This was copy from CWCAP: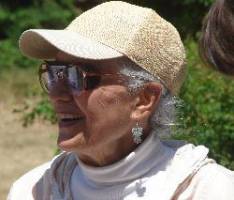 Nancy R. Malmgren, Founder and Director of CWCAP, 1929-2016
It is with awe, reflection, and sadness that we join the community in marking the passing of Nancy Malmgren.
During her time with the Girl Scouts at Carkeek Park, a visionary plan developed to rehabilitate, clean up and bring back the salmon.  Nancy created the Carkeek Park Advisory Council (CPAC) and the Carkeek Watershed Community Action Project (CWCAP) and gathered support and funds to make the vision real.   Collaborating with many and working relentlessly, she was able to see water pollution reduced, the creek system restored, and the salmon returned.  Earth Day at Carkeek Park was her special holiday.
Nancy brought about so many positive and successful changes to the Piper's Creek Watershed and Carkeek Park that it will take much time and more than a few individuals to bring it all to the fore.
Memorial service will be held at the Carkeek Park Environmental Learning Center on Saturday, December 17 at 1:00PM.
Donations in her memory can be made to: Carkeek Watershed Community Action Project.
A link to SeattleTimes Obituary for more details on her wonderful life: SeattleTimes Nancy Malmgren Obituary