A Community Conversation on Low Income Housing
Broadview Community Council Meeting Tuesday, September 20
Meet and Greet: 6:30 p.m. and meeting starts at 7:00 p.m.
Meeting Place: Luther Memorial Lutheran Church, 132nd and Greenwood
Compass Housing Project: Greenwood Ave and 132nd St
The Broadview Community Council board met recently with Compass Housing Alliance and Luther Memorial Lutheran Church (LMLC) leadership to learn about proposed family housing to be developed in the LMLC church parking lot at 132nd and Greenwood. This is the first update to the community to share what we have learned.
The BCC Board has a generally favorable view of this project, and the upcoming BCC meeting on September 20 will include information and a presentation about the plans. This article aims to provide background about Compass and an overview of the project. In a follow-up article later this week, we will provide more details about community impacts from similar Compass Housing projects. Compass has also invited the community to visit their Dexter Avenue location to get a first hand view of a similar project, which opened in 2014. That project faced initial opposition, but now has strong support within its community. Some of its most vocal critics are now some of its most loyal volunteers.
If you're interested in touring Compass on Dexter, the staff are hosting community tours. The first one is scheduled for this Thursday, September 15 at 6:00 p.m. Compass on Dexter is located at 756 John St.
Compass Housing has a long history in Seattle, dating back to the 1920s. Today, they run 27 locations throughout the Puget Sound area, providing a wide variety of housing and support, and are respected for their well-run, well-maintained facilities. These are developed in partnership with local congregations such as LMLC, the community, and local government, based on the housing needs in an area.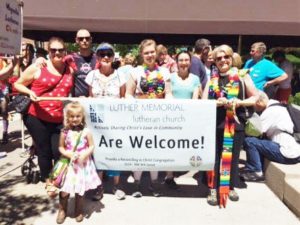 The proposed development at LMLC – called Compass Broadview – is designed to provide permanent, affordable housing to low and very low-income families, each of whom must pass a background check as part of their application process. It will be 3 stories, similar in size to nearby apartments and condos already on Greenwood Ave. Current zoning allows for such a development. The building will have 59 units, including studios, 1-, 2-, and 3-bedroom apartments. It will be fully staffed, providing on site support services from a variety of programs for families and children. Compass believes the Greenwood Ave location is ideal, because families will have easy access to schools and bus service. They bring services on site in part because the population is almost exclusively dependent on public transportation and few have personal cars.
Next up: community impacts; sidewalks; parking; property values; tour Compass Dexter
Here is a link to the Compass Broadview Project PDF:Compass Broadview Project
You Tube :Home for families — Compass on Dexter