Councilmember Juarez Event in District 5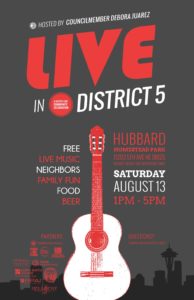 Councilmember Juarez  Hosting North Seattle Community Festival Saturday, Free Tacos, Live Music
SEATTLE – Councilmember Debora Juarez (District 5, North Seattle) will host a free community celebration of arts and culture in Seattle's North-end this Saturday afternoon. Councilmember Juarez has partnered with the Seattle Drum School and Music Center of the Northwest to bring local live music to Hubbard Homestead Park.
The event includes:
Event sponsors include: Seattle Parks Foundation, Thornton Place and Northgate North
 WHAT:
"Live in D5" Community Celebration
WHERE:
Hubbard Homestead Park
11203 5th Ave NE
Seattle, WA 98125
 WHEN:
Saturday, August 13
1 p.m. – 5 p.m.
WHO:
Councilmember Debora Juarez
Public Welcome!