NIGHT OUT IS TUESDAY, AUGUST 2, 2016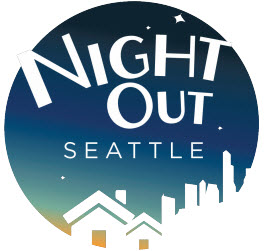 Seattle Night Out is Sponsored by the Seattle Police Department.
Tuesday, August 2nd is the annual Seattle Night Out Against Crime. To participate in Night Out and to have your street closed for the event, you must officially register your Night Out event with the City of Seattle.
Registration will close at 5:00 PM August 1st, 2016.
MORE INFORMATION ABOUT NIGHT OUT
New to Night Out? Learn tips for a successful event.
Apply for Funding. The Department of Neighborhoods Small Sparks Fund can provide up to $1,000 in to support your event. Apply through July 1st.
Need Invites and Street Closed Signs? Materials can be printed at home.
Connect with the Community. Join the Seattle Night Out Facebook Page.