Call to Action on Sound Transit on the 130th Street Station!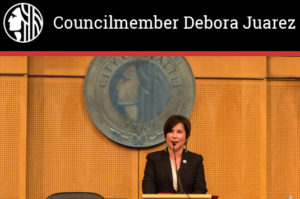 From Councilmember Debora Juarez.
If we are going to see some an amendment to the Draft ST3 Plan we need you to write in and tell the Sound Transit leadership that we need a commitment to build the 130th Street Station!
I am not sitting around hoping there will be a change, I am out here pushing every button and looking for all the possible ways to get North Seattle what it needs. I met with Sound Transit Board Members, Sound Transit Director Peter Rogoff, other Seattle City Councilmembers, King County Councilmembers, our Legislative delegation in the 46th District, the Federal Transportation Administration WA liaisons and even Senator Patty Murray's Office. We have been meeting with community groups representing Haller Lake, Lake City, Pinehurst and Broadview. We have met with advocacy groups like Transportation Choices Coalition. We have discussed the need for a station at a 130th with major employers like the University of Washington, North Seattle College, Northwest Hospital, Northgate Mall and Thornton Place. I recently wrote an Op-ed that was published in the Seattle Times. And through all these meetings I have learned that what is really going to change the course of the ST3 draft plans depends on the demands of the community. They need to hear from us, and we need to be loud.
I want to thank the North District Council, Lake City Neighborhood Alliance, Olympic Hill Neighborhood Council, Pinehurst Community Council, 46th State Legislative delegation and all the individual neighbors that have sent in their survey and are sending in letters to Sound Transit.
Please consider attending the next Sound Transit Board meeting on April 28th at 2pm to testify in person about the importance of Sound Transit making a commitment to build the 130th Street Station. The meeting will be held at the Union Station building at 401 S Jackson St, Seattle, WA 98104.
We need to keep the pressure on. The public's opinion really does matter, I need your voice! Fill out your survey and send in a letter of your own to:
soundtransit3@soundtransit.org EmailTheBoard@soundtransit.org and cc: me at debora.juarez@seattle.gov
Write in as an individual, as a representative of your community council, as a business representative, as a person who uses public transit or as a person wants to!
Feel free to use our sample letter below, and thank you for advocating with me!
Response Letter from the community to Sound Transit
How do I set up a meeting at our District 5 Office? – It's easy! Follow the link and fill out the form.
Email: debora.juarez@seattle.gov
Phone: (206) 684-8805