New North Precinct Open House June 6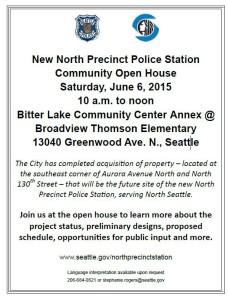 The new Seattle Police Department North Precinct facility will be built at the southeast corner of Aurora Ave. N and N 130th St.  There will be an open house meeting to give the latest word on progress and status of the project.  It is on Saturday June 6 at the Bitter Lake Community Annex in the Broadview-Thomson school at 13040 Greenwood Avenue N from 10 AM – Noon.
More information about the project is available here.
Click on poster to enlarge.