Micro-Housing Proposed in Broadview
Neighbors have expressed concern about a large micro-housing apartment building with very little parking proposed for N 109th St. between Aurora Ave. N and Whitman Ave. N.  Below is the Department of Planning and Development notice.
NOTICE OF APPLICATION
Seattle's Department Planning and Development is currently reviewing the Master Use Permit application described below.
Area: North/Northwest Address: 1008 N 109TH ST Project: 3017565 Zone: COMMERCIAL 1-40′, ARTERIAL WITHIN 100 FT., URBAN VILLAGE OVERLAY
Notice Date: 05/21/2015
Contact: JOHN MOREFIELD – (206)324-4800 x107 Planner: Michael Dorcy – (206) 615-1393
Date of Application: 05/12/2015 Date Application Deemed Complete: 05/18/2015
Land Use Application to allow a 4-story building containing 93 small efficiency dwelling units. Seven live/work units and retail will be located at ground level. Surface parking for 13 vehicles will be provided on the site. Pending lot boundary adjustment 3020419.
Comments may be submitted through: 06/03/2015
The following approvals are required:
SEPA Environmental Determination (This project is subject to the Optional DNS Process (WAC 197-11-355) and Early DNS Process (SMC 25.05.355). This comment period may be the only opportunity to comment on the environmental impacts of this proposal.
Design Review
Other permits that may be needed which are not included in this application:
Building Permit
Your written comments are encouraged and may be submitted to:
Department of Planning and Development
ATTN: Public Resource Center or Assigned Planner 700 5th Av Ste 2000
PO Box 34019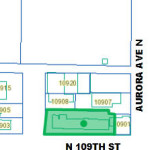 Seattle WA 98124-4019
FAX 206-233-7901
PRC@seattle.gov
All correspondence will be posted to our electronic library.