Another Candidate Forum for Seattle City Council District 5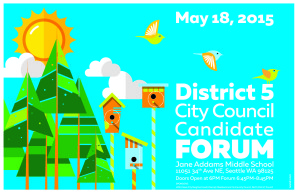 If you missed the first one here's you chance to meet the candidates again.
The Meadowbrook Community Council, in association with the Lake City Neighborhood Alliance and North District Council invite you to attend.
Monday, May 18, 2015-  6:45 to 8:45 p.m.- Doors open at 6:00 p.m.
Jane Addams Middle School Auditorium 11051 34th Ave NE, Seattle, WA 98125
Meet the candidates for District 5 (current at the time of notice):
Sandy Brown
Debadutta Dash
Mercedes Elizalde
Debora Juarez
Mian Rice
David Toledo
Halei Watkins
Learn about their background and experience, ask them questions, grade them, and challenge them to be transparent. You will be given the opportunity to create questions prior to the event-make your voice heard.
Don't be late. Seating is limited.
For more information Contact Pam Bowe at pbowe@bowecompany.com.
District 5 runs from Puget Sound to Lake Washington, from 145th St. to roughly 85th St.