Broadview Co-op Preschool's Annual Spring Carnival!
Broadview Co-op Preschool is hosting a carnival – everyone is welcome.
Our Annual Spring Carnival has a variety of activities from story telling to cupcake decorating, engaging activities for children of all ages. The Seattle Biscuit Company 
http://seattlebiscuitcompany.com
 will be there too. A silent auction will be available with local items such as family photography sessions and other wonderful items, all proceeds raise money for scholarships that help children attend preschool. This fun and affordable carnival will give you a taste of our wonderful cooperative preschool and helps our neighborhood community: we hope you join us!
If you are interested in attending our co-op next Fall, there is still space available in our Toddler and Pre3 classes. You can contact our parent coordinators Kiersten 
k.hoskisson@gmail.com
 for Toddler or Liz 
echighizola81@gmail.com
 for Pre-3 class information, or come meet the teachers and other attending families at our carnival! This will be the last public event of the year, so come check us out and learn more about what we offer.
Location:
(Located at the southeast corner of Greenwood Ave. N. and N. 112th St.)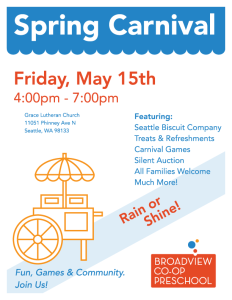 What's Co-op?
Co-ops offer a community of support and education for children and their families. They differ from traditional preschools in that they're lead by an experienced preschool teacher in conjunction with parents, and in partnership with certified Parent Educators from North Seattle College. Broadview Co-op Preschool offers engaging early learning opportunities, accredited parent education, and family support for families in Broadview and beyond.