Part II Introducing the candidates running for Seattle City Council District 5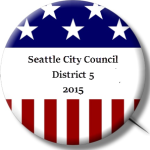 Tomorrow the Broadview Community Council is hosting the first major District 5 candidate forum of 2015:
Wednesday, March 11, from 7:00 to 8:30 pm Bitter Lake Community Center, 13035 Linden Ave N.
Doors open at 6:30 for socializing; get there early to grab a seat. 
Today we offer bios of the other three candidates.
Sandy Brown is a pastor, activist and non-profit leader who lives in the Licton Springs neighborhood. He was raised in White Center, son of a Latino mother and Anglo father, both blue-collar employees at Boeing. Sandy graduated from the University of Washington in History and from Princeton Theological Seminary with a doctorate in gender and sexuality. He has two grown sons and lives with his partner, Theresa, owner of a yoga studio in North Seattle. Sandy is passionate about social justice, the environment, public safety and public education.
While he lived in Kirkland, Sandy was elected to the Lake Washington School Board, and served as its president in 1991-1992. After returning to Seattle in 2001 he was elected Executive Director of the Church Council of Greater Seattle. Sandy was a founding member of the Committee to End Homelessness in Seattle, co-wrote the King County Homeless Encampments Ordinance and negotiated the City of Bellevue Homeless Encampment Consent Decree. He cofounded the Blaine Center Homeless Shelter, which has successfully moved over 300 homeless men into transitional and permanent housing since 2010. Sandy was a key spokesperson for Referendum 74, appeared in TV commercials and direct mail campaigns prior to its victory in 2012, and was an outspoken opponent of his denomination's rules against same sex marriage. After the Sandy Hook shootings, Sandy helped create the Washington Alliance for Gun Responsibility and was one of the key leaders of I-594, the background check for gun purchases proposal that won statewide approval in November 2014 with 59% of the vote. In 2013 he was selected as Washington Ceasefire Citizen of the Year.
Website: www.sandy4seattle.com
Mercedes Elizalde has dedicated her career toward the eradication of homelessness and helping others escape poverty. Mercedes' passion for social service started when she began working at a nonprofit at the age of 16. Currently, Mercedes is the Volunteer Program Coordinator at the Low Income Housing Institute. She has worked or volunteered for ten different nonprofits across the West Coast and the Seattle Area. She has worked in youth development, early childhood and early learning advocacy, with adults with developmental disabilities, homeless adults and families, teen in environmental justice, and with women fighting for reproductive justice.
Mercedes has a broad range of professional experience working with both large state and national organizations and some with less than five paid staff. Mercedes is also Co-Chair of the Seattle Women's Commission and a Board Member of the Children's Campaign Fund and the Seattle King County Coalition for Homelessness. One of the few renters running for office, Mercedes lives in the Olympic Hills neighborhood of Seattle with her partner, Stephen.
Website: http://votemercedes.com/
Debora Juarez has been an attorney for 28 years and has dedicated her personal and professional life to serving the poor, disenfranchised, and underrepresented communities and has been successful in addressing many of these social and political issues. She has served on and supported numerous boards, commissions, social movements, committees, that reflect her dedication to equality, justice and democracy.
She began her career as a King County public defender where she provided legal representation to indigent criminal defendants. Later, she joined Evergreen Legal Services, Native American Project, where she represented a majority of Washington's 29 tribal governments and entities. These areas included treaty rights, natural resources, public safety, legal and social policy, and economic development.
After serving as an appellate and trial judge pro-tem, she was appointed a judgeship to the King County Superior Court, including presiding over both felony criminal and civil trials. Thereafter, she accepted the position of executive director of the Governor's Office of Indian Affairs, where she acted as lead policy and legal advisor under two gubernatorial administrations.
In 2009 and 2010, Ms. Juarez was named to Super Lawyers by Super Lawyers magazine. She was also named one of the "Top Lawyers" of 2007 by Seattle Magazine, and in June 2007 she was honored with the "Enduring Spirit Award" by the Native Action Network for her lifetime achievements in bettering Native American communities. Each year since 2012, Ms. Juarez has been selected by her peers for inclusion in The Best Lawyers in America® in the area of Native American Law. Ms. Juarez was also awarded the Alumni Service Award by the Seattle University School of Law Alumni Association in 2013.
Debora Juarez is a long time resident of North Seattle. She has spent approximately 29 years as a renter and homeowner in neighborhoods such as Meadow Brook, Maple Leaf, Wedgewood, and Haller Lake. Debora is an enrolled member of the Blackfeet Nation and currently resides in Pinehurst with her daughters Raven and Memphis Irene, who attended Eckstein Middle School and Nathan Hale High School.
Website: www.electdeborajuarez.org