Introducing the candidates running for Seattle City Council District 5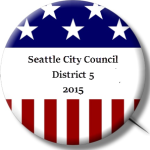 With the election this fall, Seattle embarks on a new form of city council government. In addition to two members elected citywide, we will vote in north Seattle for a candidate to represent us in District 5.
Next week the Broadview Community Council is hosting the first major District 5 candidate forum of 2015:
Wednesday, March 11, from 7:00 to 8:30 pm
Bitter Lake Community Center, 13035 Linden Ave N.
Doors open at 6:30 for socializing; get there early to grab a seat.
Already six candidates have entered this race. To get you started learning their names and backgrounds, we will share the bios of the candidates here, starting with these three.
Halei Watkins is a passionate and dedicated community organizer, who has consistently fought for social and economic justice.  As Planned Parenthood Votes Northwest's Seattle organizing lead, she works everyday as an advocate for women's health and reproductive rights.  Halei also serves on the King County Civil Rights Commission, the Executive Board of the 46th District Democrats, and was named a Young Green Leader by Washington Conservation Voters.
In 2012, Halei was the North Sound Regional Field Director for the R74 campaign that secured the freedom to marry for gay and lesbian couples in Washington State.  She has also worked extensively on civic engagement in underrepresented communities.  Halei began her career at the King County Labor Council.
Halei lives in Northgate with her husband, Jaret, a student at North Seattle College, Fred Meyer employee, and a member of UFCW Local 21.
Website: www.haleiwatkins.com/
David Toledo is a 40-year resident of North Seattle who believes that candidates should know the neighborhoods that they seek to represent.
David joined the Greenwood boys club in 1976, swam at Green Lake and Bitter Lake in the 70's and 80's, watched movies at the Aurora Drive-in, and celebrated birthday's at Farrell's Ice Cream and Pizza & Pipes throughout his childhood.   In 1988 David graduated Ingraham High School and started his first job at Red Robin Northgate. His heart for the area is unquestionable; now take the time to find out about his professional qualifications at the March 11th Candidate Forum.
Website: www.WeVoteToledo.com
Mian Rice was born and raised in Seattle, attended Garfield High School, received his B.A. Degree from Eastern Washington University, then went to University of Washington to receive his Masters Degree in Transportation Planning from the school of Civil Engineering.  After graduation he went to work for:
Washington State Transportation Research Center (TRAC) – Port of Seattle: as an Aviation Landside Access Planner at SeaTac Airport;
CH2M Hill: as a consultant;
City of Seattle: as a Contracts and Woman and Minority Business Manager, Transportation Policy Advisor, and Regional Policy Advisor;
Turner Construction: Superintendent and Business Development Manager; and
Small Business and Policy Department – Port of Seattle: as Department Manager, his primary objective was/is to establish opportunities for all small businesses with an emphasis on inclusion of woman and minority business owners.
Currently Mian has over 21 years combined of public and private experience.
His commitment to education has led him to serve on the Board of Directors for the Strategic Education Center, the Garfield High School Foundation, UW's Friends of Educational Opportunity program, and the UW Consultation and Business Development Center.  On a personal note, he met his wife in Seattle – she is a private practice physician working at the University of Washington.  Together they have an eight-year-old son, whom acts as an inspiration for Mian to actively improve our district for current and future generation.  The couple chose North Seattle to settle and buy their home in Licton Springs 12 years ago, and have since relocated to the Maple Leaf/Victory Heights neighborhood.
Website: www.mianrice.com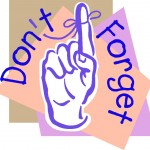 Don't forget to pay your BCC membership dues.