Celebrate Neighbor Appreciation Day February 14, 2015!
Groups, businesses, and residents across Seattle come together the week of February 14 to celebrate this great day!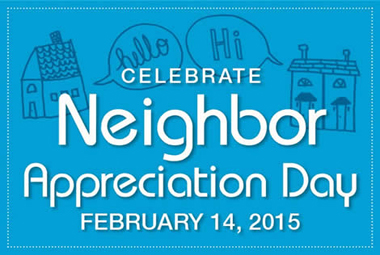 Here are some ways for you to be a part of Neighbor Appreciation Day:
Join the hundreds of community members across our city in celebration of what makes Seattle great – our neighbors!
 Celebrations happening
The Seattle Fire Department will be hosting open houses at nineteen stations from 11 a.m. to 1 p.m. including Fire Station 24, at 401 N 130th St.
Seattle Parks and Recreation Department is hosting several celebrations and "thank yous" at their pools and community centers.  For more activities, view our Neighbor Appreciation Day calendar listing of events on this page.
 Neighbor Appreciation Day began in 1995 when Phinney Ridge activist Judith Wood suggested that the City designate "a special day to celebrate the goodness in those around us and to reach out and strengthen our bonds to each other." Mayor Norm Rice proclaimed the Saturday before Valentine's Day as Neighbor Appreciation Day. The observance has grown every year since.