Interested in updates on Light Rail at Northgate Station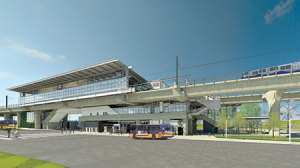 The elevated Northgate Station will be located east of 1st Ave NE,
spanning NE 103rd Street. Station entrances will be on the
Northgate Mall property north of NE 103rd Street and near the
Northgate Transit Center south of NE 103rd Street. This station
will provide access to Northgate Mall, bus transfers at the
transit center, adjacent park-and-ride facilities
North Seattle Community College and nearby homes and businesses.
Opens for service: 2021
Ride time: Northgate to downtown Seattle in 14 minutes
Rider projection: Approximately 15,000 daily riders will board the train
at Northgate Station by 2030
Phase: Final design
There is a lot of updated information at: www.soundtransit.org/Projects-and-Plans