Crown Hill Neighborhood Association questions on the Holman Road Project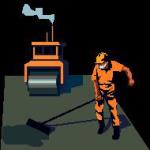 Most of us in Broadview use Holman Road. Do you have any comments or questions that would be helpful to this project?  Please feel free to contact Bert.
The Crown Hill NA is excited that the Holman Road project is approaching completion and is following up on a few related items….
It has been a busy year here in Crown Hill with the work being done along Holman Road. We have appreciated the work done so far and are already seeing benefits from many of the improvements. Also, since construction crews are in the process of finishing their work on the repaving project, we wanted to get a status check on some items connected to this project to make sure that it is completed thoroughly and well, and so that we do not lose sight of ongoing planning beyond this project. We would appreciate a response on each so that we know where they stand.
The following items relate directly to the completion of the repaving project:
1.     Landscaping in the medians – We greatly appreciate that the medians were structured to accommodate plantings and are already filled with soil so that this can happen soon. Are there plans and funds remaining in the project to do that? If not, can we get the OK to secure funding and/or donations of time and materials from local businesses and neighbors to make this happen ASAP? Large weeds are already growing in this space and what is an overwhelming positive to the project is in danger of becoming an eyesore. Now that the rainy season has returned, it is time to plant. Please advise.
2.     Speed Limit Sign and Speed Tracking Device on Southbound Holman Rd. – During consultations earlier in the year, we were told that the speed limit sign could easily be moved north of 12th and the radar and digital speed readout could be moved further north, as well. They need to be moved from their current locations to encourage traffic to slow before it gets to the park area where the signs are currently located. Please advise on when this will happen.
3.     FYI on Drainage Issues by 15th crosswalk on Holman Rd. Northbound – We have been very pleased with the extensiveness of the sidewalk repairs happening adjacent to this stretch of road but have concerns about large pooling of water that occurs alongside it. Has this been addressed in any way and/or will it impact the integrity of the road and sidewalk there and/or usability of the crosswalk?
4.     FYI on Cut-Through Issues at 13th and Holman – Because the new median prohibits left turns from 13th onto Holman, the gas station is being used as a cut-through to make left turns. There is no way to address this structurally but are there any suggestions on how to mitigate (e.g. police monitoring for a time, etc.)?
These items are short and mid-term follow up issues connected to the project that we would also appreciate receiving a status check on:
1.     Crossing signal at 13th – While the median may provide some relief (we have observed that it is being utilized as a crossing refuge), there was agreement that this crossing point warrants a signal of some sort and it was built with that intention in mind. How do we make this happen? There was talk of possible funding earlier in the year, is this still a possibility? What are next steps? Please advise.
2.     Assessment of and Mitigation for Increased Traffic on 12th and 14th – We have observed a marked decrease in both volumes and speed of traffic on 13th after the installation of the median, which is great. We have also observed definite higher volumes and likely increased speeds on 12th and 14th as a result. How can we confirm this and develop mitigation strategies to soften the impact on these streets? Please advise.
3.     Flashing Yellow on Left Turn Northbound at 15th – During peak traffic hours in the afternoon, because this turn has no flashing yellow light, cars avoid turning there and take an alternate left onto 90th, endangering southbound traffic and pedestrians along Holman. It makes better sense to have these cars turning left from the pullout lane at 15th, which they won't do if they have to wait forever to do so as it is right now. A flashing yellow is an easy fix. How can we make this happen?
4.     Long-term Planning for a Complete Holman Road – In consultation with SDOT staff early this year, all parties agreed that the repaving project could address some of the needs for the Holman corridor but that this one project was not funded and structured to meet them all and that further planning and work would be necessary. While the Complete Streets Ordinance provides SDOT the flexibility to meet these needs in more than one project, it clearly specifies that all needs should be planned for and addressed. What are the next steps to continue planning for, funding, and creating a Complete Street along Holman Road in consultation with all community stakeholders? Please advise.
Thank you for the time and attention that has been given to this project so far and for your timely response to the items above. Please feel free to contact me directly with any questions or concerns.
Sincerely,
Bert W. Hopkins
President, Crown Hill Neighbors Association
bert@crownhillneighbors.org
206-414-8733
Thanks Jayne Williamson BCC Boardmember for getting the information to us.