The Broadview Garden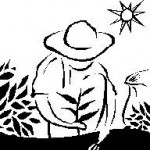 Club welcomes Paul Bryant to talk about bees, wasps and other
"Pollinators in your Garden."   On Thursday, October 9 at 7 pm
Paul Bryant is a master gardener and backyard beekeeper.  He is also the beekeeper for Hazel Heights P-patch (NW 42nd and Baker Ave NW) and a Friend of Fremont Peak Park (4357 Palatine Ave N).  Paul believes that too many people fear bees, and lack an understanding of their critical role in our world.  He feels "we need to be a little more accepting of nature."  He will tell all about the native insect and animal pollinators (butterflies, beetles, moths, hummingbirds, flies, etc.) that keep the Pacific Northwest green.  Pollination is a vital part of the cycle of growth of our food, and the plants that provide the air we breathe.
Read more about Paul in a recent interview by The Freemont Centrist:  http://www.fremocentrist.com/commentary/?p=5388
Thursday, October 9, 2014
7 p.m. to 8:30 p.m.
Luther Memorial Church, Fireside Room
13047 Greenwood Ave. N
Be sure to mark your calendars for the November 13 BGC meeting:
Stewart Wechsler  is a ecological consultant, nature guide  and botanist who is deeply passionate about nature.  He will talk about habitat restoration.
Contact Broadview Garden Club with any questions at:   broadview.gardenclub@gmail.com