Broadview SPU Meeting Information Now Online
On Tuesday evening a large crowd of Broadview residents attended the Seattle Public Utilities (SPU) meeting about the paired sewage and drainage alternatives for the 12 Avenue NW basin.  There was a lot of information presented, and a lot of comments and questions.
There will be meetings about the alternatives for the problems in the Dayton Avenue basin this winter.  SPU has some new data about the frequency of potential sewage backups in the Dayton Avenue basin, which suggests that backups there could be more frequent than previously thought.
The presentation and the display boards are now online at SPU's  Broadview Projects website.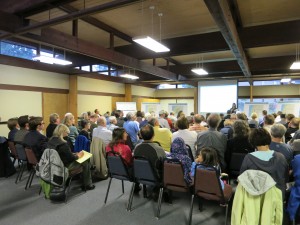 SPU encourages residents to give feedback.  You can do that via this e-mail address: