Ellie's Lemonade and Bake Sale July 26
A Broadview neighbor's granddaughter came up with a fun way to support a worthy cause, the Greenwood Food Bank.  Below is a message from her grandfather about the event.
Ellie came up with the idea 3 years ago saying, "I want to do a Lemonade and Cupcake Stand and give the money to the poor people".   It was entirely her idea, and that summer in 2012 she raised over $350.00, all of which was donated to the Greenwood Food Bank.  Last year she got her friend Annabelle to help, and with donations of baked goods and money from family, friends, neighbors, and drive-bys she was able to donate over $600.00 to the Food Bank.
This year on Saturday, July 26th from 12 to 3PM Ellie hopes to give even more to the folks in need.  Please join her on the Corner of 3rd Ave. N.W. and N.W. 143rd Street with whatever you can give, including baked goods to sell.  If you cannot attend you can always make a check out to The Greenwood Food Bank (Volunteers of America) and send it to her home, our home, or the Food Bank on her behalf.   Addresses are listed below.
A 2012 picture of Ellie (5 years old) and her personalized homemade sign, with a 2013 picture of Ellie (6) on the left and Annabelle (7) on the right are attached.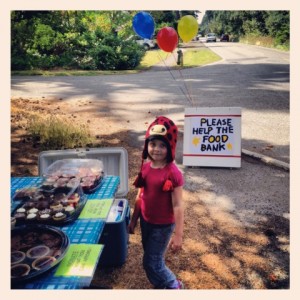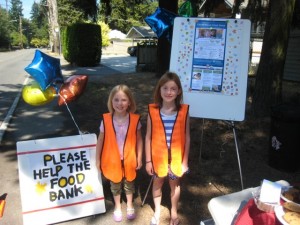 If you have any questions, please feel free to call Ellie's grandfather, Chris Bihary at (206) 331-0265.
Please pass this on to family, friends, and Broadview neighbors making this another year to remember what one little girl's idea can do.
My Sincere Thanks,
Chris Bihary, 211 N.W. 143rd St., Seattle 98177
Ellie Franklin-Bihary, 10545 Palatine Ave. N., Seattle 98133
Greenwood Food Bank, 9041 Greenwood Ave. N., Seattle 98103
( Volunteers of America )