Broadview Dinner Club Challenge – Tuscan Cuisine
  As I was on vacation enjoying the warm summer breezes, the humid air, and the salty sea spray on my face, I looked for a good book to read.  Browsing through my mother's library, I found Under the Tuscan Sun and thought to myself, "I am probably the last person on earth to read this book.  Let's give it a go."  I still have yet to see the movie which I heard is completely different from the book.  But I digress.  As I was flipping through the pages, this book inspired what I feel is our most triumphant dinner club theme yet.  Tuscan.
Sure, we've done Italian….in fact, I am pretty sure we've done Northern Italian.  But the meals prepared at this month's dinner club embodied the simplicity of Tuscan cuisine while still giving rich flavor.  So often I mask the flavor of the food by adding too many ingredients.  Not true for this month's theme.  Our meal began with a tasty appetizer of Baked Honey Shrimp.  Now, I am not sure how 'Tuscan' this recipe is….but the after we finished off the tray….we didn't care.  A marinade of lemon juice, parsley, olive oil…. (Ok…this is definitely sounding Tuscan) combines with honey, soy sauce (?!), Cajun seasoning and cayenne.  So, maybe it's Tuscan/Asian/Cajun fusion.  Who cares.  We didn't even get a chance to grab the toothpicks.  Finger-licking good.
We then proceeded to the dining room only to find a beautifully decorated table displaying culinary perfection.  Our main meal consisted of grilled pork and peaches placed beautifully on a bed of greens, Tuscan pasta salad, and a Kale Caesar salad that will replace your romaine forever.  The pork tenderloin was marinated in a simple combination of balsamic vinegar, olive oil, maple syrup and fresh rosemary from my garden (located in the heart of Broadview).  The same marinade was brushed on the peaches before grilling which enhanced the delicious sweetness of the peach.  All this was combined on a skewer sandwiching a piece of prosciutto and plated on a bed of greens first tossed with olive oil and kosher salt.  The Tuscan Kale Caesar might as well be a work of art.  I learned that when you massage the kale leaves with the olive oil dressing, it helps wilt the leaves making it a bit more palatable.  Well….we finished the bowl.  So that worked for sure.  And no Italian meal would be complete without a pasta salad.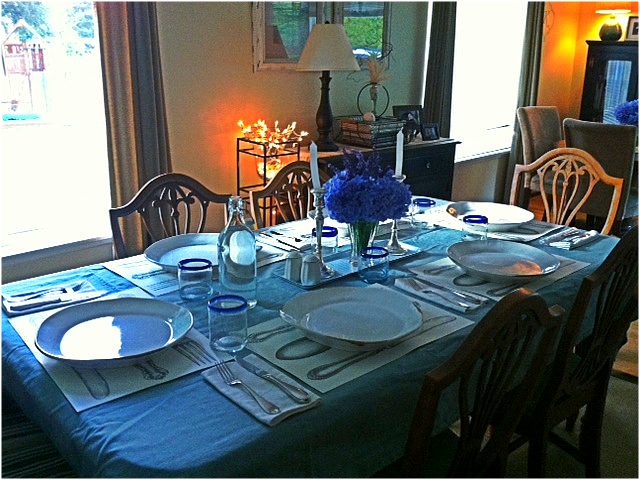 For dessert, a simple tart of apples and pine nuts completed the meal.  It was the perfect end to a perfect meal.  And the wine!  How could I forget the wine!  There were many to choose from, but my favorite was the Contadino Pinot Grigio Vivace from Trader Joes.  It has a slight effervesce and paired with all dishes nicely.  But most importantly, the good food and the good wine was nothing without the fabulous company of my dinner club companions.  Well done ladies.
Baked Honey Shrimp – from Bon Appetit
Mix together in a small bowl:
1 T chopped parsley
1 tsp. grated lemon zest
Cover and refrigerate until ready to use.
Whisk together in a medium bowl.
2 T lemon juice
½ cup olive oil
2 T soy sauce (I use Tamari)
2T honey
2 T Cajun seasoning
1 T chopped parsley
½ tsp. ground red pepper (I use cayenne)
Add 2 lbs. large shrimp, peeled & deveined (I use jumbo shrimp, peel and leave tail on)
Toss well in the dressing.  Cover and marinate in the refrigerator for 1 hour, stirring occasionally.  Position a rack in the center of the oven and preheat to 450 degrees F.  Transfer the shrimp to a baking pan or sheet large enough to hold them in one layer.  Bake until firm, 5-10 minutes.  Sprinkle with the reserved lemon zest and parsley mixture.
Grilled Pork and Peach Skewers
Serves 6 Ingredients:
2 lb. pork tenderloin cut into 1 – 1-1/2" chunks
1/4 cup balsamic vinegar
1/4 cup olive oil
1 tsp. maple syrup
1-1/2 tsp. minced fresh rosemary
3 peaches cut into quarters lengthwise, pit removed, skin-on
5 oz. sliced prosciutto
12 bamboo skewers, for serving
6 cups seasonal greens (baby leaf lettuces), washed and dried
2-1/2 tbsp. olive oil
1/4 tsp. salt
Whisk balsamic vinegar, olive oil and rosemary together to make a marinade. Brush peach quarters with marinade, cover and set aside. Put pork and leftover marinade into a non-reactive bowl with a cover. Marinate pork for 20 minutes, tossing to coat evenly. Prepare grill to achieve high heat. Drain pork cubes from the marinade. Using long tongs cook the pork on all sides for about 10 minutes, until done and center of cubes achieve temperature of 160 F and feel firm. Remove pork from the grill and cover with foil. Toss seasonal greens with olive oil and salt. Grill the peaches 2-3 minutes, until they have grill marks on both sides. Remove the peaches from the grill. To Assemble: Put 3 – 4 pieces of pork on each skewer. Then put a loosely folded slice of prosciutto on each skewer. Finish skewers by putting a slice of grilled peach at the end of each skewer. Serve on a bed of seasonal greens. Serve immediately. – See more at: http://www.tuscanytonight.com/361#sthash.MtFIpZen.dpuf
Pasted from <http://www.tuscanytonight.com/361>
Tuscan Kale Salad – adapted from Shutterbean/ Melissa Clark
 Makes 4 servings
8 cups (generally one large bunch) of kale cut into ribbon like pieces
1/4 of a baguette thinly sliced (or 2 slices good white bread)
1 clove of garlic, grated
juice of 1 lemon
1/4 cup plus 2 T olive oil
3/4 cup grated parm and 1/2 cup parm shavings
1/2 tsp salt
1/2 tsp. pepper
The marinade period: You should begin marinating the salad at least 4 hours prior to serving, but you could also do it overnight. To marinate, place the chopped kale in your serving bowl, squeeze in the juice from a quart of the lemon and pour in the 2 tablespoons of olive oil. Toss with your hands, massaging the leaves gently. Set aside.
Make the croutons: Toast the baguette until its nice and golden brown. Cut it into large rough chunks, reserving the bread crumbs too.
Make the dressing: Whisk together the lemon juice, olive oil, salt, pepper, garlic, and half the grated parm. Two hours prior to serving toss together the marinated kale, dressing, and bread crumbs.  When ready to serve, top with shaved parm and a bit more salt and pepper.
Pasted from <http://www.channelingcontessa.com/2012/09/06/tuscan-kale-salad/>
 Italian Basil Pasta Salad – from Taste of Home
Ingredients
1 package (16 ounces) bow tie pasta
2 cups grape tomatoes
7 ounces fresh mozzarella cheese, cubed
1 medium sweet yellow pepper, chopped
1 small red onion, chopped
1/2 cup pickled banana pepper rings
1 can (2-1/4 ounces) sliced ripe olives, drained
4 thin slices hard salami, diced
1/2 cup fresh basil leaves, thinly sliced
DRESSING:
3/4 cup olive oil
3/4 cup red wine vinegar
1 garlic clove, minced
1 teaspoon salt
1/2 teaspoon pepper
1/4 teaspoon dried basil
Directions
Cook pasta according to package directions; drain and rinse in cold
water. In a large bowl, combine the pasta, tomatoes, cheese, yellow
pepper, onion, pepper rings, olives, salami and basil.
In a small bowl, whisk the dressing ingredients. Pour over salad and
toss to coat. Cover and refrigerate for at least 1 hour before
serving. Yield: 18 servings.
Apple and Pine Nut Cake (Torta di Mele con Pignoli)
Ingredients
1 cup plain flour
1 teaspoon baking powder
½ cup sugar
2 large eggs, lightly beaten
One stick unsalted butter, melted
2-3 medium golden delicious apples, cored, thinly sliced
grated rind of 1 lemon
¾ cup pine nuts
Icing sugar, to dust
Mascarpone, to serve
Preparation
1. Preheat oven to 350 degrees F. Lightly grease a 7″ springform pan and dust with flour.
2. Sift flour and baking powder together into a medium bowl. Stir in sugar. Make a well in center and add eggs and butter. Stir, gradually incorporating flour to make a thick batter.
3. Fold in 3 of sliced apples, lemon rind and ½ cup of pine nuts. Spoon into prepared pan. Arrange remaining apples on top of cake and sprinkle with remaining pine nuts. Bake for 60 minutes, covering with foil if cake is browning too much.
4. Cool in pan for 10 minutes before transferring to a serving plate to finish cooling. Dust with icing sugar and serve with mascarpone.