Christ the King Catholic School Gets a New Look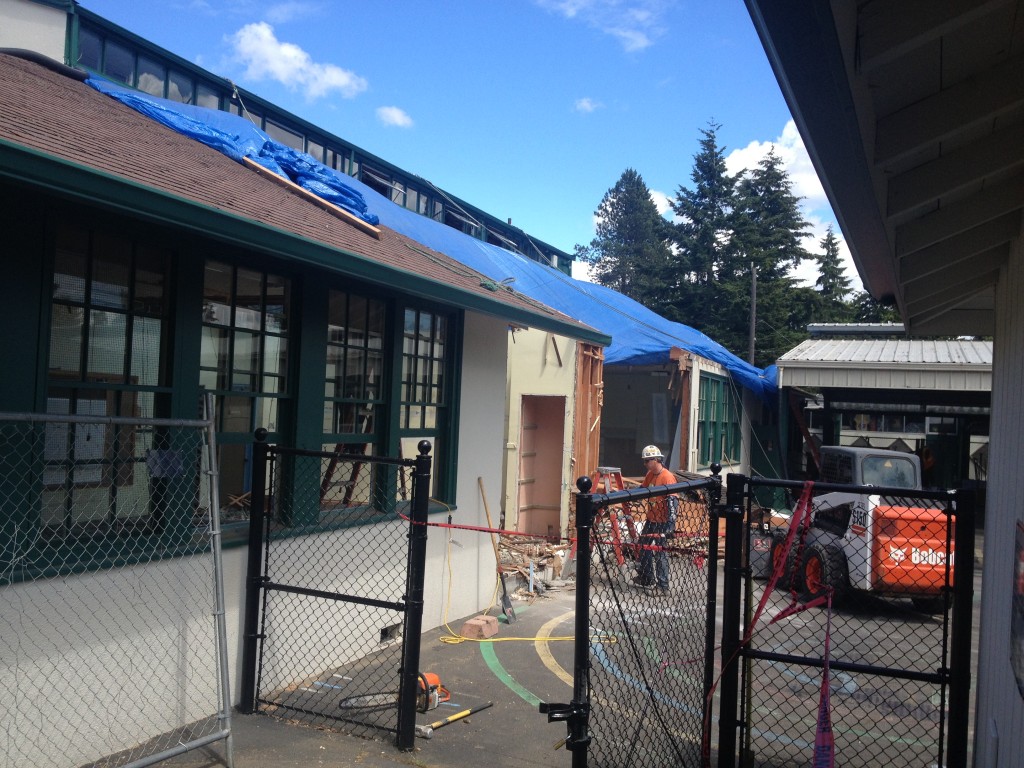 Right in the heart of Broadview is a little gem of a school tucked on North 117th Street between Dayton Ave N and Phinney Ave N.  Christ the King Catholic School has been educating children since 1939 – and the physical structure has had few (if any ) improvements since then.  Well, that is all changing this summer.  With a generous donation from an anonymous donor, the main school building of CKS is undergoing a complete overhaul.  The ultimate goal is to make the building safer for the school children and staff  in case of an earthquake.  Retrofitting the building requires taking the building down to the studs.  So, while all the walls are open, now is the time to make mass improvements.  The 1939 will be opening this September with an all new interior (or as close as possible).  CKS will also have a new rear entrance – this will help with the flow of school children as they enter the building.
Caitlin and Chloe, sisters and students at CKS were asked what they are most excited about regarding the remodel.  Their response was, "We are so excited to be surprised what the new building will look like inside.  And we are so excited to have new desks and chairs!"  Although new desks and chairs are on the agenda, they are not part of the initial budget for the remodel.  CKS has launched a Sponsor-a-Classroom fund.  A complete classroom sponsorship of $5,000 provides student and teacher desks, chairs and bookshelves. A commemorative plaque will be outside the room stating the designation.  A partial classroom gift, being referred to as a Spirit Gift, and will be used to buy essentials for the classrooms that are unsponsored, or to buy additional items requested by the teachers (Rugs, additional bookshelves, technology stands).  Please contact paa@ckseattle.org if you are interested in donating.
Christ the King Catholic School has limited enrollment for preschool – 8th grade.  Please contact cksdev@ckseattle.org for information.