Local Nonprofit partners with Grocery Outlet to help the needy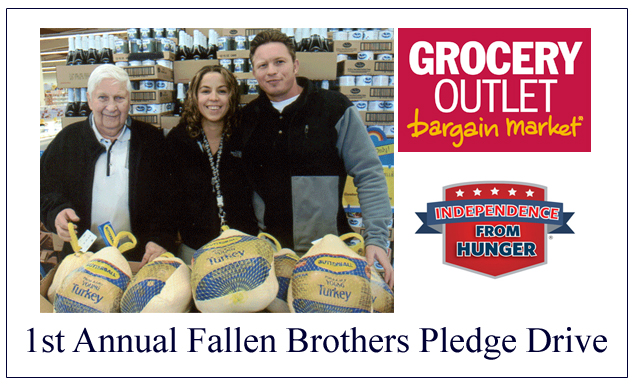 Did you know that Fallen Brothers Seattle – a local nonprofit organization that picks up food and delivers to area food banks, shelters, and tent city is stationed right here in Broadview?  Sid Andrews and Hilda Andrews, founders of Fallen Brothers Seattle, have lived in Broadview for almost 40 years.  Their dedication to homeless and hungry in Seattle is extensive and selfless. 
Fallen Brothers Seattle is partnering with Grocery Outlet Aurora and Crown Hill to help stamp out hunger in the yearly Independence from Hunger campaign.  This is a month-long fundraiser taking place in the month of July.  Please see the heartfelt letter from Sid and Hilda below.
Dear valued friends and supporters,
 We are proud to announce the first annual Fallen Brothers Seattle pledge drive, in partnership with Grocery Outlet.
 July marks the start of the Grocery Outlet Independence From Hunger Campaign. Fallen Brothers Seattle and Grocery Outlet have worked together for years to deliver hundreds of thousands of pounds of food to food banks and other organizations in need.
Now we are asking you to help us continue to help them. This year we are working with the Crown Hill Grocery Outlet and the Aurora Grocery Outlet. And as we collect many truckloads of food, we need just a small amount of funds to help make it happen.
 Please visit the Fallen Brothers Seattle website and click on the PayPal link to give as much as you can.
So if Fallen Brothers is already doing this great work, why an annual fundraiser? 
 1. Fallen Brothers has been working tirelessly in the community for years. Sid Andrews, founder of Fallen Brothers, (left in the photo above) works night and day to pick up food donations and deliver them to organizations in need in the Seattle area.
 2. Sid and his organization have very low overhead, mainly maintenance, gas and insurance for the truck he drives all over Seattle.
 3. We are going to set a very attainable goal of $5000 to cover these costs.
 4. We are only going to ask for this support once a year, in the lead up to
all the work we do for the Independence from Hunger and other summer programs.
 5. All donations are tax deductible.  Fallen Brothers Seattle is a certified
501 3C organization.
Thank you for your continued support.
Sid and Hilda Andrews, Co-Founders of Fallen Brothers Seattle