Cleanup Volunteers Note a Lot Less Litter on Linden
For five years neighborhood volunteers have cleaned up litter once a month along Linden Ave. N in the Bitter Lake Hub Urban Village.  In the past it was not unusal to have a large mound of full litter bags at the end of a cleanup.  On Saturday June 1 the volunteers were pleased to find that there was much less litter to pick up.  The litter bags were half full today.  This is likely due to the street improvements along Linden that make it a more attractive place.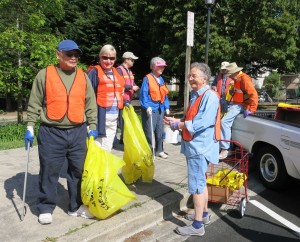 The people who study littering say that run down places attract littering.  One of the objectives of the Linden neighbors who lobbied for money to improve Linden was to make the street an attractive place that would  not have so much littering and illegal dumping.  So far so good!  Thanks neighbors and thanks to the City of Seattle for the street improvements.