Linden Project a Puget Sound Regional Council 2013 VISION 2040 Award Winner
At the April 25 Puget Sound Regional Council Annual Assembly the Linden Ave. N Complete Streets Project was given an award.  The VISION 2040 Awards showcase the amazing work being done to implement the region's long range growth, economic and transportation strategy.
Linden Ave North Complete Street Project Sponsored by City of Seattle Department of Transportation with support from Broadview-Bitter Lake-Haller Lake Community and Broadview Community Council.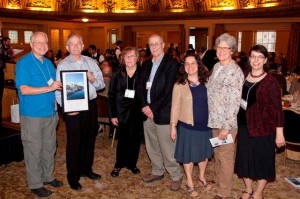 Guided by the Seattle's Complete Streets ordinance, this redeveloped roadway enhances pedestrian safety and improves storm water drainage. Innovations include art that celebrates the neighborhood's history, a two-way buffered bike lane known as a cycle track and completion of a missing Interurban Trail.