Get to Know Viewlands Elementary School
Viewlands Elementary School at 10525 3rd Ave. NW re-opened in the fall of 2011 after being closed since 2007.  It's a vibrant place with more students enrolled than Seattle School District anticipated when planning the re-opening.  A place to start learning about Viewlands is its web site . Click on the links at the left side of the site.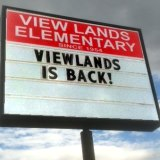 The Viewlands PTSA is active and has a web site on Facebook.  In addition to involved parents the school and PTSA welcome community members to get involved as volunteers.
Having Viewlands back is a welcome addition to the Broadview Community.