The Salmon Are Back at Carkeek Park, Celebrate Them Nov. 23 11 AM – 1 PM
Carkeek Park's chum salmon have returned to Pipers Creek. Those chum are a gift to the people of Seattle from the Suquamish Tribe for the Piper's Creek salmon stock supplementation program.
The chum and a few coho return each year to the natural beauty of Carkeek Park. From Saturday, November 10 to Sunday, December 9, Salmon Stewards will be on hand at the park each Saturday and Sunday from 11 a.m. to 2 p.m. to enhance visitors' understanding of the life cycle of the salmon. The Salmon Stewards Program is a community volunteer program funded and collaboratively run by Seattle Parks and Recreation and the Restore our Waters program at Seattle Public Utilities. To date, volunteer salmon watchers have recorded 145 live chum and 17 live coho.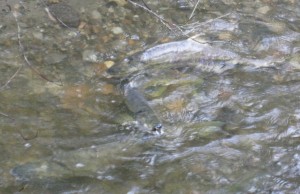 The public is invited to the annual Pipers Creek Salmon Celebration, which takes place this year on Friday, November 23, the day after Thanksgiving, from 11 a.m. to 1 p.m., is one of the best opportunities to see salmon at Carkeek. There will also be treats, warm drinks, music and kids activities to welcome the salmon home.
Click on photo for larger view.