New N 125th St. Sidewalk Now Finished
The new concrete sidewalk on the north side of N 125th St. from Greenwood Ave. N to the Interurban Trail (Lowe's) is now finished.  Crews finished landscaping recently.  Local residents can and do now walk to and from on a safe, convenient walkway.
This project was selected using the Seattle Pedestrian Master Plan, which is a long-term master plan to make Seattle the most walkable city in the nation. This project is part of the Bridging the Gap transportation levy approved by Seattle voters in November 2006.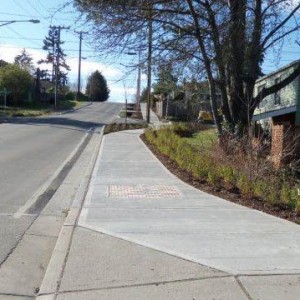 There is also some art stamped into the concrete at several places along the sidewalk.  Here is one of the art pieces.