News from Terrie Johnston, our North Percinct Crime Prevention Coordinator
 Mayor McGinn and the Seattle City Council decided last November to maintain the 3 remaining Crime Prevention Coordinators for another year.
This means I will continue serving the North Precinct's neighborhoods with establishing and maintenance of Block Watches; conducting free security surveys for both commercial spaces and residents.  I am available for personal safety trainings; workplace violence prevention, etc.  I am happy to be a part of the Community Police Team, and look forward to continuing this meaningful work.  Our Block Watch Captains are unsung heroes. We rely on your eyes and ears, and appreciate your sharing these e-lerts I send out with others.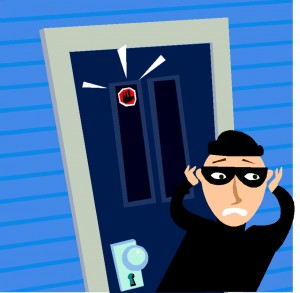 Property Crime:  In much of the North precinct, the burglary rates have decreased or stabilized.  There are still increased numbers of residential burglaries in some northeast neighborhoods.  They are primarily occurring during the hours of 6 a.m. to about 6 p.m.  Knocking on doors to see if anyone is at home is still a common method used by thieves.  In some cases, there is a female driver who serves as chauffeur and lookout, for her male accomplices.   The lookout has been seen texting the thieves about watchful neighbors, etc.  Kicking in doors, or door jambs is prevalent.  We recommend all exterior doors be solid core doors, (or metal) and are a minimum of 1 ¾" thick.  For maximum security, all exterior doors should be equipped with a deadbolt lock and reinforced strike plates, using 3" screws which will go into the framework.  Locks within 40 inches of glass are vulnerable.
Watchful neighbors remain your best alarm.  9 times out of 10, our burglars are arrested due to 9-1-1 calls from neighbors who heard or saw something suspicious and made that call.
I've received e-mails lately about door-to-door solicitors who may or may not have been legitimate.  So I am attaching again, information on residential home sales.  (I've sent this out before, so consider this a rerun).     
9-1-1:  I think I speak for the entire Community Police Team when I tell you that every day in our e-mail inbox, or on our telephone's voicemail inbox, we find messages from the community that say something like this, "I wanted to let you know that I just saw something suspicious……….but I didn't think this merited a 9-1-1 call".  Almost always the information is detailed, with good descriptions and refers to something that may or may not have been criminal, but certainly seemed odd.  And almost always it is too late for SPD to do anything with that information.   I am now hoping to encourage you to trust that gut feeling of yours.   If you get the sense that something weird is happening, even if it isn't an emergency, please call 9-1-1 and simply state what you are reporting.  The call taker will decide whether your call should be transferred off the primary line onto a secondary line.   You don't know what you prevent by getting a patrol cruiser coming into your neighborhood.
Happy New Year!  Thanks for supporting Crime Prevention.  Contact me at 684-7711 for any questions or follow up services.  tj
Neighborhood Alert:
FOR IMMEDIATE RELEASE:
SUBJECT:  DOOR-TO-DOOR SELLERS
This is the peak time of year for door-to-door sales, including those using traveling sales crews.  There are many legitimate companies in this industry with professionally trained salespeople, selling between the hours of 8:00am and 9:00pm, and a long history of law-abiding customer service.  There are, however, less reputable companies in this business willing to take advantage of unsuspecting individuals who trust people knocking at their door.  Sometimes residents forget to practice good personal safety. 
Seattle Police officers respond to calls from citizens concerned about door-to-door salespeople.  The results have ranged from the officers checking identification and sending the seller to the City of Seattle Revenue & Consumer Affairs office for their business license, to arrests of individuals posing as residential sellers, but wanted on warrants. There have also been arrests for aggressive behavior, threats made against the resident, burglaries, and assaults.
Homeowners may consider posting a sign indicating "No agents," "No peddlers," or "No Solicitors."  InSeattle, it is unlawful for any residential seller to attempt to gain admittance for the purpose of selling at any residence displaying one of these signs. 
With these facts in mind, what should you do when a person knocks at your door?
BEFORE OPENING YOUR DOOR: LOOK FOR PROPER IDENTIFICATION.  Acknowledge the knock since ignoring it may lead to an attempted burglary.  It is preferable to speak to strangers through your door.  In Seattle, all door-to-door sellers must display the residential sales identification which includes the seller's photograph on their outer clothing.  The residential sales agent's license has the name of the licensee as well as the agent.  It shall be endorsed with the type of product or service being sold. The license is only valid for the product or service specified.  If you have any questions about whether a company is properly licensed, call the City of Seattle's Office of Revenue & Consumer Affairs at 206-684-8136.
DISCLOSURE REQUIRED:  Each residential seller shall, immediately upon contacting the prospective buyer, disclose their name, company and the product or service represented.  If requested to do so, they shall leave the premises immediately.  If the individual does not leave, or if an attempt to gain access is made by asking to use the bathroom, the phone or get a drink of water, refuse the request and ask the individual to leave.  If you feel intimidated, pressured, or threatened at any time, call 911.
USE GOOD JUDGEMENT: It is safer not to allow the salesperson into your home.  You are encouraged to avoid paying immediately.  Do not give the salesperson cash or a check, as it may be pocketed and you will never receive the product ordered.  Instead, find out from the seller how you can order directly from the company or receive the bill upon receipt of the product/service.  If the salesperson is concerned about losing their commission for the sale, offer to provide their name when placing your order.
KNOW YOUR RIGHTS: InSeattle, if you make a purchase, the salesperson must tell you of your right to cancel the order and the contract must include a statement regarding the right to cancel.  For each sale of ten dollars or more, the seller must provide a receipt or contract to the purchaser.  Do not leave any blanks on your contract.  Be sure the contract or receipt is dated and that it states the terms of the transaction, the amount of payment made and the name and address of the residential seller.  It must also include a notice informing the buyer of their right to cancel the order any time prior tomidnightof the third business day after the date of the transaction.  A completed Notice of Cancellation (in duplicate) must be provided to the purchaser at the time they purchase from the seller.  You do not need to provide a reason for canceling your order.
DO NOT GIVE IN TO HIGH PRESSURE TACTICS:  Never be afraid to say "NO!"  If a salesperson in your home tries to pressure you into buying their product, terminate your conversation with them.  Take the time to contact the company directly if you still have interest in the product or service.  Avoid making an immediate purchase in order to receive a "free gift."  If it sounds too good to be true, it probably is.