Construction Progressing on the New North 125th St. Sidewalk
The new concrete sidewalk on the north side of N 125th St. from Greenwood Ave. N to the Interurban Trail is starting to take shape.  Concrete has been poured for about half of the length.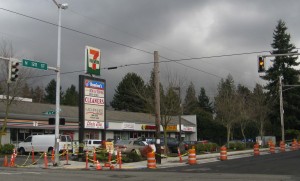 It's a good thing there will be a real sidewalk soon.  The asphalt "sidewalk" on the south side of the street is in disrepair and would not be passable for a person with disabilities or in a wheelchair.