Dangerous crosswalk in front of K-8 School/Broadview Thomson Safe Routes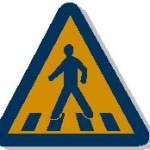 We discussed the walking route map to school was changed to direct students away from the west side of Greenwood north of 137th where there is little or no walkable zone.
The marked crosswalk and stop lines in front of the school (between 130th and 132nd) were remarked several weeks ago.  I was in the neighborhood a few days ago and the markings look great right now but with the high traffic volume on the street this is going to be an ongoing team effort.  Please contact SDOT again when the crosswalk needs to be remarked in the future.
Our signal engineers are retiming the entire Greenwood corridor this year.  The changes will be implemented by December 20th.  As part of these changes I've requested the timing of the ped signal in front of the school be improved for pedestrians.  Currently the signal is running full cycle (120 seconds) during AM & PM peaks, and half cycle(60 seconds) during off peak.  After the changes are implemented this wait time should be shorter especially during school arrival and dismissal.
Other possible improvements we discussed such as curb bulbs, median islands, new sidewalks or walkways, would need additional funding.  One possible source of funding, the Neighborhood Projects Fund, is currently accepting applications.  I have attached information about this fund, the application process, and the application.  We welcome applications that improve walking and biking conditions near schools.  If you have questions about this process, please feel free to contact me again.

Brian Dougherty
Seattle Department of Transportation
Traffic Management Division
700 Fifth Avenue, Suite 3700
PO Box 34996
Seattle, WA 98124-4996
206-684-5124