King County Metro is Proposing Changes to Bus Routes
King County Metro Transit is proposing some changes that will eliminate some service and enhance some service.  For the most part these changes would not negatively impact Broadview, and the improvement in on-time performance of some routes, such as routes 5, 28, and 358 could be a benefit.  Following is Metro's recent communication about these changes.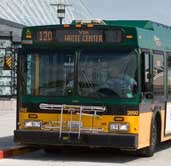 Starting next June, Metro is recommending changes in bus service in order to make better use of our resources to get the most people   where they want to go. As part of this set of changes, Metro is recommending the following routes be deleted, reduced, or revised: 25, 38, 42, 79, 99, 119, 129, 139, 162, 175, 196, 219, 600, 912, 925, and 935 (a detailed description of the proposed changes is available on Metro's website).
The service hours captured from these reductions would be reinvested in other routes in the transit system, such as the 1, 8, 9 Express,
36, 44,169, and 218, to relieve crowding and improve on-time performance. A full list of routes that are candidates for service reinvestment is available on the website linked above.
You can learn more about all potential transit service changes for next year—and comment on them—at our Have A Say website.
On Wednesday, December 7, 2011, the King County Council's Transportation, Economy and Environment Committee will hold a special committee meeting starting at 9:30 a.m. in the King County Council Chamber on the 10th floor of the King County Courthouse (516 Third Avenue in Seattle). Members of the public are welcome to attend and testify concerning the proposed service changes.
Alternatively, comments may be emailed to: janice.mansfield@kingcounty.gov
The recommended changes were developed according to Metro's service guidelines, which call for us to take service from low-performing
routes and reinvest it in more heavily used ones in order to reduce overcrowding, improve on-time performance, or satisfy unmet transit needs. In August, when King County adopted the temporary $20 Congestion Reduction Charge to preserve our overall level of transit service for two years, the adopted legislation directed us to use our new plan and guidelines to make the transit system more efficient and effective. Some of these changes will be difficult for some of our riders, but Metro is making these changes to improve the overall productivity of the system as we continue looking for ways to stretch the value of the public's investment. Transit alternatives are available for most riders affected by service reductions.