Event at Carkeek Park After Thanksgiving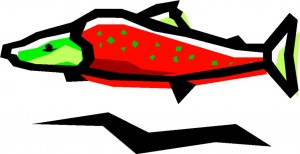 Food for Thought Served After Thanksgiving Feast
Free activities, food, and special performance: "Stormwater: Life in the Gutter"
 Stop talking turkey and start talking salmon.
The day after Thanksgiving will provide food for thought at Carkeek Park, 950 NW Carkeek Park Road, where the annual salmon run will be celebrated on Nov. 25, 11 a.m.-1 p.m. Pipers Creek, located in Carkeek Park, is one of best places in Seattle to see salmon from mid-November to early December.
Volunteer salmon stewards will be on hand to talk about salmon lifecycle and habitat, how people affect them and what's happening in Seattle (what you can do at home and what the city is doing to protect and enhance our waterways). The event also features children's activities, food, and a special performance of "Stormwater: Life in the Gutter" in the Carkeek Park Environmental Learning Center at noon.
The one-man performance, written and performed by Stokley Towles, uncovers the world of urban rainfall and traces it from the clouds to the city's streets and into the pipelines and creeks through which it flows. Towles' one-hour presentation is humorous and informative – offering a gutter's eye view of Seattle's drainage and sewer system.
Pipers Creek collects stormwater runoff from the Broadview, Greenwood, Blue Ridge and Crown Hill neighborhoods – about three square miles – from Northwest 85th Street to the city limits between Greenwood Avenue North and Puget Sound.
Learn more about Seattle Public Utilities, at: http://www.seattle.gov/util.
Learn more about Carkeek Park at http://www.seattle.gov/parks/environment/carkeek.htm.  
 Follow SPU on Twitter: www.twitter.com/SeattleSPU.
In addition to providing a reliable water supply to more than 1.45 million customers in the Seattle metropolitan area, SPU provides essential sewer, drainage, solid waste and engineering services that safeguard public health, maintain the City's infrastructure and protect, conserve and enhance the region's environmental resources.
Contact: Susan Stoltzfus, (206) 733-9148