Broadview Preparedness Group Attends Emergency Communication Hub Drill
On October 29 several Seattle neighborhoods participated in an emergency preparedness drill to rehearse procedures for their community Emergency Communication Hubs.  Members of the Broadview Preparedness Group who are working to develop an emergency communication hub or hubs in Broadview toured three hub sites in Queen Anne and Magnolia.
Emergency Communication Hubs are places in a community that will be staffed by community volunteers for the purpose of sharing information and resources within the community following a major disaster.  They also will have radio communication with the Seattle Emergency Operations Center (EOC).
The thirteen Broadview volunteers divided into two groups, each group went to one of the hubs on Magnolia and Queen Anne.  At those hubs local volunteers conducted simulations of hub operations in the event of an emergency.  The Broadview volunteers were drafted into service as members of the public who came to the hub to report problems.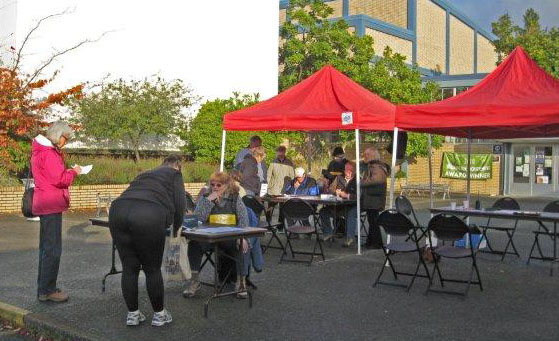 The simulation drill helped the Broadview volunteers understand what is involved in operating a hub. The Broadview volunteers will be meeting soon to de-brief on what they learned.  Their goal is to have one or two hubs set up by the time the next city-wide drill is held in the spring of 2012.  A video about hubs prepared by Scouts in Queen Anne is available online.
The Broadview Preparedness Group welcomes more volunteers from Broadview. If you would like to get involved contact Carl Leon at carl@wingrider.net