Neighbors Express Safety Concerns along NW 125th St.
On Oct. 17, 2011 a group of neighbors near NW 125th St. and 8th Ave. NW met with Gary Schimek from Seattle Public Utilities (SPU) to express their concerns for pedestrian safety on 125th after SPU recently widened and paved the drainage ditch on the south side of the street.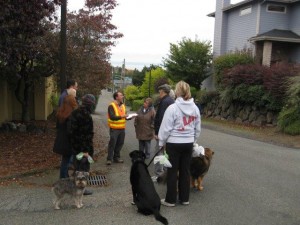 NW 125th Street between 8th Ave. NW and 10th Ave. NW has a narrow right of way, only 30 feet wide, forcing pedestrians to walk in the street to get to the  bus on 8th Ave. NW.  Also, when it is snowy and icy cars stopping at the intersection on the downhill side have difficulty getting traction when they start up again, so there is concern that they may slide into the widened ditch.  During the conversation neighbors related stories of storm water overflows that have damaged houses and the road shoulder.  Several neighbors suggested that if the storm water flowing in the ditch were put in a pipe below ground then the shoulder above the pipe would provide a place for pedestrians to walk.
Mr. Schimek took notes and said he would talk to staff at SPU and Seattle Department of Transportation (SDOT) about collaborating on some short term and longer term improvements to the drainage and pedestrian access.
On Oct. 20 Mr. Schimek sent an e-mail with two updates. 1.  "SDOT  will mark the ditch/roadway with a white safety stripe as a one-time action.  The work is primarily being done here, and not at other similar  locations across the City, due to the recent work conducted by SPU to line the ditch to address erosion concerns.  As such, the work will be funded by SPU.  The timing of the marking is pending the availability of  SDOT crews given their other scheduled work across the City."
2. "SPU will develop a concept level design and associated cost estimate to replace the ditch & culvert system between 8th Ave NW and 9th  Ave NW with a stormwater conveyance pipe.  This design work will be conducted as part of the Broadview Sewer and Drainage project led by Celia Kennedy.  The schedule of the design and cost estimate is pending the final contracting with our consultant team.  If this work is technically feasible and cost effective, I will ask that Celia include this as a candidate project for an early action item for 2012. "