Violent Bank Robbery 145th Greenwood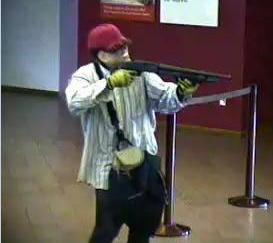 originally posted http://www.shorelineareanews.com/
By Sgt. John Urguhart, King County Sheriff's office
Two bank robbers, one armed with a pistol and one armed with a shotgun, robbed a Wells Fargo bank in Shoreline yesterday afternoon (Sept. 12th) about 5: 25 PM. Both robbers wore Halloween masks.
The robbers came into the bank, located at 14500 Greenwood, and ordered customers and a teller to the ground. One suspect jumped the counter and demanded larger denomination bills from three teller stations. The robbers then left the bank, heading northbound on foot.
Responding Shoreline officers, assisted by Seattle Police, were unable to locate the suspects.
If you recognize anyone in these photos from the Wells Fargo Bank robbery call the King County Sheriff's Office at (206) 296-3311 (24 hours) or 9-1-1.