Broadview Co-op Preschool's Open House – 9/10/11 – 10AM to Noon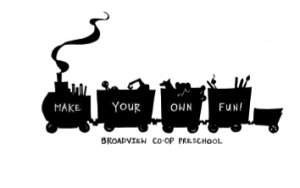 Looking for a quality, cooperative preschool experience for children 1 to 5 years old?
Broadview Cooperative Preschool offers engaging early learning opportunities, accredited parent education and family support.
Please Join Us at Broadview Cooperative Preschool Open House for Prospective Families.   Saturday, September 10th, from 10:00 AM to 12:00 PM at
Grace Lutheran Church
11051 Phinney Ave. N.
Seattle, WA 98133
(Located at the southeast corner of Greenwood Ave. N. and N. 112th St.)
Teacher Charlotte and several co-op parents and children will be on hand to answer questions and tour families around our classroom.
Classes start mid-September – Please come join us to learn more.
Children are welcome and refreshments will be served!
What is a Cooperative Preschool?
Cooperative Preschools, or Co-ops, provides parent and early education for families with children from infancy to Pre-K.  Co-op preschools are very popular and provide a community of support for children and their families.
Co-ops are located throughout Seattle and differ from traditional preschools in that they are run by parents, in conjunction with a certified classroom preschool teacher and in association with Seattle's Community College program.
For more information about our cooperative preschools, visit http://coops.northseattle.edu/index.html
For more information about the Broadview Cooperative Preschool, please contact Kim at kim@kimalessi.net.
Visit our website at: http://coops.northseattle.edu/coops/broadview/broadview.html