Broadview Bitterlake P-Patchers Win Award in Greenwood Parade
Your Broadview Bitterlake P-Patch neighbors participated in the 61st Greenwood Seafair Parade Wednesday, July 27th. 
This years Greenwood Seafair Parade theme was, "Greenwood Takes Flight" with Dr. Bonnie Dunbar, retired Astronaut, as Grand Marshal. 
Bitterlake P-Patch was awarded a 1st Place Trophy in the Comic/Novelty Community Division with an alien outer space P-Patch complete with marching alien tomatoes and an alien Potato Princess.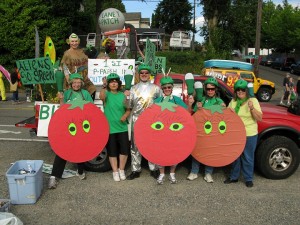 If you are interested in a P-Patch plot at 143rd and Linden Ave Seattle, contact:
Chair, Bitterlake  P-Patch Activities
Chair, Bitterlake  P-Patch 2011 Greenwood Parade