Broadview Community Council Sponsors "Meet and Greet" for Viewlands Elementary Reopening…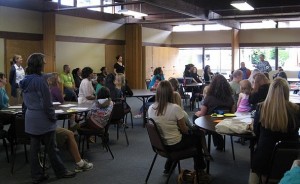 Over one hundred community parents, children, and preschool directors visited our sponsored event welcoming the new Principal, Lisa Escobar, her community Design Team members, and her newly hired teachers and staff members at the Luther Memorial Church's Fellowship Room on Thursday, June 30. Our Community Council holds all of its meetings at this venue during the year as well. Your Board was pleased to sponsor this event, coordinate planning with Principal Escobar, and make arrangements for this very successful "meet and greet."
 Our community is fortunate to have this particular Principal in our midst. Ms. Escobar has a solid educational background as well as teaching credentials in health, biology, chemistry, special education, and English as a second language. Not only that but its always best when a Principal has been a classroom teacher and she has done just that including teaching general and special education as well as bilingual education. On the administrative side, Lisa has worked in rural, suburban, and urban districts. Within Seattle Public Schools she served as Director of Special Projects/Categorical Programs.
 Because there will be an opportunity for any community member or family to attend an Open House when the Viewlands site is ready in August, this smaller gathering was primarily to allow Principal Escobar to introduce her teachers and staff to the families with children that have already been registered to attend Viewlands.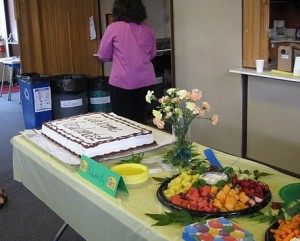 Nancy Malmgren, both a Broadview Community Council member and a member of the Viewlands Design Team, arranged for a donation of food and a huge cake from our Holman Road QFC Store. Matt, the QFC Store Manager, dropped by to meet the Viewlands crew as well. Coffee for the event was donated by Clarissa Silvestre, owner of our Mobile Espresso on 130th and Linden. District One School Board Director, Peter Meier, also attended the event.
We have a goal area related to service to our community and this effort on our part falls under that umbrella goal. Our Board is seeking interested community members to join us in pursuing our goals and improving our outreach to all sectors of the Broadview/Bitter Lake community, including improved networking with and helping to support our area schools.
Pat McCoy, President
Broadview Community Council