Crosswalk Construction at 130th & Aurora
A long-awaited improvement to pedestrian crosswalks at N 130th St. and Aurora Avenue N will begin construction on Tuesday May 31.  Seattle Department of Transportation has provided the infomation below.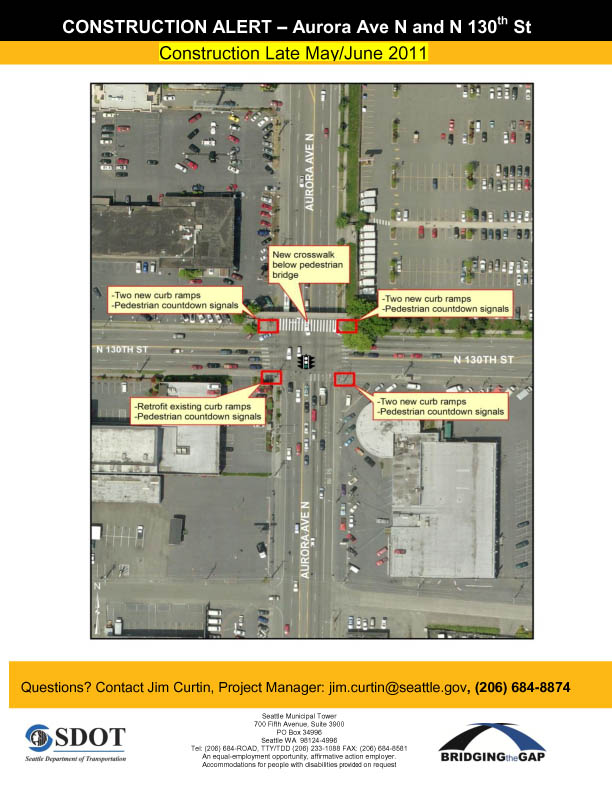 The Seattle Department of Transportation (SDOT) would like to inform you that construction will begin soon on a new crosswalk project in your neighborhood.
 Project Background and Description:
The existing pedestrian overpass of Aurora Avenue North at North 130th Street was constructed in the 1960s and is not ADA accessible.  Over the past decade, the area immediately west of Aurora and centered at Bitter Lake has seen a boom in senior housing developments.  Over 1,500 new senior housing units have been built in that time.
In an effort to improve pedestrian safety and mobility, this project will install new ADA curb ramps on all four corners of this intersection and install a new marked crosswalk on the north leg of the intersection.  Pedestrian countdown signals will be installed to accompany the new crossing facility.  
 Project Impacts:
Construction is expected to begin in late May/early June and last two weeks. 
Residents should anticipate minor traffic delays, temporary parking restrictions, temporary traffic and pedestrian detours, and moderate construction noise and dust while this work is underway. 
Alternate crossing locations of Aurora Ave N are located to the north at N 135th Street and to the south at N 125th Street.
This project is funded by the Aurora Traffic Safety Project – a two year effort to improve safety along Aurora Avenue North.
Between April 2005 to March 2008, 1,581 collisions occurred on Aurora – that's nearly 46 collisions per month. This project was launched to reduce collisions on Aurora using short-term, low-cost solutions through engineering, education, and enforcement efforts.
This project is supported by a state grant from the Washington Traffic Safety Commission (WTSC) and the Washington State Department of Transportation (WSDOT).
For more information visit our website at