How do we add value to our homes?
The first thing that comes to mind is home improvements. We love our homes and our plan is remain living in them for the next few years. Remodeling that kitchen and bathroom – a popular and often recommended solution – might be financially out of reach for many of us.  Those types of remodels are important improvements. However, if money is presently so tight where else can we look for ways to add long term value to our homes? 
Investment in our community is, I believe, an underappreciated value source.  Buyers frequently ask me about the community where their prospective 'new' home is located.  They want to know about the neighborhood, the schools, the parks and the walking distance to shops and restaurants.  These 'value' questions can now be easily answered with an available phone application  Walk Score.
A second underutilized value source is the Broadview Community Council.  Your Council Board members freely give of up their time to address issues that bring value to the Broadview community.  They lobby city government for neighborhood improvements such as safety, parks, sidewalks and infrastructure improvements.  Have you been to a BCC meeting lately to see the results of their efforts on your community's behalf?  The next time you're walking around Broadview I invite you to check-out Broadview's Walk Score.  I would also invite to join the Broadview Community Council.  Yearly household membership is $10 and that's cheap compared to a kitchen remodel!
First  Quarter Median Price Chart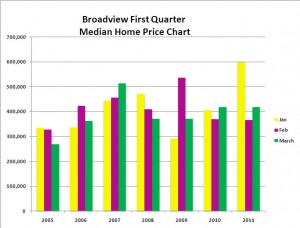 * click picture to view larger
As you can see, January 2011 started with a big jump in home values.  Home values in February and March, 2011 were roughly equal to these same months of 2010 but remember 2010 had the Government Homebuyer $8,000 Tax Credit Benefit program. 
Susan George is a Real Estate Broker for Coldwell Banker Bain