Winter Curry…delicious dish!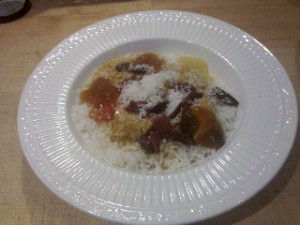 Bryn Black writer for At the Table in Broadview
This is one of my favorite recipes for many reasons: it is easy, it makes the house smell wonderful, and the left overs freeze well.
 Gorman Christmas Curry
don't let the name fool you, it is wonderful any time of the year…
 Ingredients:
1 –  4lbs. leg of Lamb OR 4 Chicken Breasts OR 2 large Eggplants
3 – chopped onions
5 – chopped celery sticks
2 – diced tomatoes OR one can of diced tomatoes
64 oz – chicken stock
2 – graded apples (or 2 cups apple sauce)
1 can – coconut milk
3-8 Tablespoons  – Curry powder
1/4 cup – chutney
dash – rice vinegar
dash – tabasco
cornstarch to thicken
 In a large stock pot cube and lightly saute meat, onions, celery with a little olive oil.  Add tomatoes and stock until ingredients are covered by about two inches.  Add apples, coconut milk, curry powder, chutney, vinegar, and tabasco.  Let this cook down for several hours (min. two hours) until meat is tender.  Thicken with cornstarch* if desired.
 *in a small bowl mix two parts cornstarch with three parts cool water, whisk until all cornstarch is dissolved.  Then add a few tablespoons at a time to curry until you reach your desired thickness, this will ensure that you will not create clumps.
 Serve with the following sides:
Rice – you favorite will do – Jasmine or Basmati if you would like traditional Plain yogurt Chutney Coconut Raisins or Dried Cranberries Bacon bits Peanuts (unsalted) Hard boiled eggs finely chopped
 Freezing leftovers: great quick meal, just heat up and serve.  In freezer bags, scoop 2 cups curry, squeeze out air and lay flat in freezer.