Driving us Crazy in Broadview
An excellent article by Bob Young titled "Driving us Crazy" in the February 13 Seattle Times Pacific Northwest Magazine describes some of the traffic challenges we all face each day.
Part of the article features Linden Avenue North resident Richard Dyksterhuis and his work to improve traffic safety in Broadview.
But my problems seem minor compared to someone like Richard Dyksterhuis, an octogenarian who's been fighting for years to increase mobility, civility and community in his little corner of Northwest Seattle. On one artificial knee, Dyksterhuis keeps trekking to City Hall to advocate for the building blocks of democracy, sidewalks. He has lost out to Paul Allen in the competition for city funds. But he vows to keep battling. Quoting a Dutch ancestor, William of Orange, he says, "You don't have to have hope to continue fighting."
Look at Linden Avenue North, a block west of Aurora, near 130th. In a 17-block stretch, Linden is home to about 1,000 senior citizens concentrated in apartments and condos, most of whom have no city sidewalks. It's not uncommon to see a senior on a motorized cart riding the shoulder of Linden trying to make his way to Rite-Aid.
Believe it or not, city officials have designated this part of the Bitter Lake neighborhood an urban village. This means high-density housing (check), transit (it's close to a few bus lines), and a pedestrian environment.
That last point has kept Richard Dyksterhuis chuckling for years. It's also kept Dyskterhuis, 83, agitating for change. The retired schoolteacher has lobbied City Hall with his maps, statistics and walking tours since 2006. Enough so that he has a prominent role in a globe-trotting documentary called "A Different Path."
As Dyksterhuis says in the film, his quest is simple. He's looking for help, someone to get him back to a "world with sidewalks and neighbors who smile at you, who know you by name, who like you."
Four Freedoms resident Larry Hunter is pictured with the caption "Larry Hunter, 71, travels back to Four Freedoms House, a senior apartment complex, in North Seattle.  Hunter, who often rides his wheelchairon a stretch of Linden Avenue North without sidewalks, says he has been hit three times by cars in his neighborhood.  He calls the traffic around his home the Linden Speedway"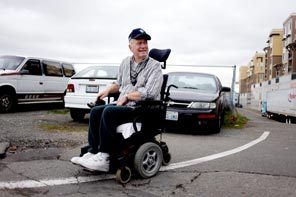 You can read the full article here.   Thanks to Richard and community members who have worked to improve safety in our community!