Keeping it Simple–Holiday Edition,Part 1
This September, Cecile Andrews, a Seattle resident, author and leader in the Voluntary Simplicity Movement, spoke to an enthusiastic crowd at the Broadview Community Council meeting. She's an engaging speaker and presented lots of ideas to build community and to encourage happiness and meaning in our lives.
Well, we turned our calendars to December this week. Hanukkah has started and Christmas is just three weeks away! I mentally started my do-lists, plans for holiday events, ask when do we start the decorating and gosh, what about the gifts and cards? Did your heartbeat just start to race too?
That's when I took the dog out for a walk, and thought about Cecile's message: research has shown that our national happiness rate has dropped because people have less time for their social networks, friends and families. How can we keep centered and focused on happiness, joy, our families, friends and communities in a meaningful and less stressful way? Back from my walk, refreshed by the exercise and views of distant snow capped Olympics, here are some ideas I'd like to share. This is an interactive blog site—please reply with your comments and ideas too!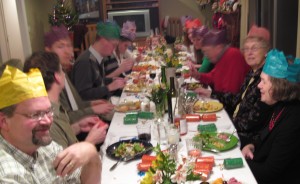 Holiday gatherings
Gatherings can be fun, build community and strengthen family ties, but also suck up a lot of your time, energy and expense. Someone suggested an easy way to simplify– avoid hosting events and enjoy being a guest. But if it's your turn to host a dinner or you enjoy throwing a party, here are some ideas to keep it simple:
Simplify the menu, make it memorable and tasty but not complex.
Make it a pot luck, inviting guests to bring a favorite dish or dessert.
Instead of a full party dinner, try a brunch, hor d'oeurve or dessert party.
Ask for help with the cooking—consider the extra time with family/friends a bonus.
If you need a little help with housework, cooking or serving, trade help with a friend or pay a  teen who could use some holiday spending money.
Instead of hosting a full party, you can plan a gathering with friends around a free holiday event, and then meet afterwards for cookies, coffee or hot cider or other warm beverages.  I have two favorite events this season I like to share with friends/family.
Enjoy the lighted Christmas ships and caroling at the Ballard Locks or Golden Garden bonfires (December 15th). Other dates, times and information can be found online.
Wrap up and stroll the wonderful Pathway of Lights around Greenlake, the evening of Saturday December 11th. The entire lake path is brightened with candles, musicians and carolers from about 4:30 – 7:30 pm. Warning: this can get really crowded on a clear night. Best leave your dog at home.
Parts 2 & 3 will cover Decorating and Gifts/Giving.