Reindeer Festival at Swanson's Nursery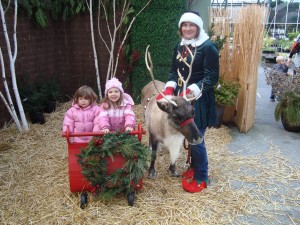 Looking for some local holiday fun for the family?  Check out the Reindeer Festival at Swanson's.  From now until December 24th, you can view the reindeer Dasher and Blitzen.  There is also an opportunity to take pictures with the reindeer, just bring your own camera!  In addition to the reindeer, Curly the camel and Moe the miniature donkey will be there.  Watch them frolic and play.
On December 4th, 5th, 11th and 12th from 10:00am to 2:00pm, Santa will be at there for professional portrait photos by Brahm of Bonjour Photography,  A reservation is not required, but get there early as the lines tend to get long.  While you are waiting for Santa, enjoy some refreshments, or check out the Holiday Train display.
If you are hungry for breakfast or lunch, stop by the Garden Café.  Enjoy a cup of Café Vita coffee while munching on a homemade dessert.  Check out the Koi Pond – always a draw for kids.  Be sure to check out Swanson's website at http://www.swansonsnursery.com.