Broadview Thomson Teacher Named a 'Symetra Hero in the Classroom'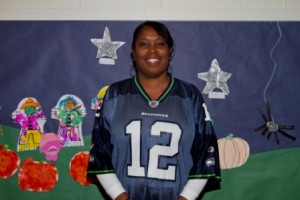 BELLEVUE, Wash. — (Nov. 17, 2010) — Symetra Financial and the Seattle Seahawks honored Broadview Thomson K-8 teacher Carole Lynch as a "Symetra Hero in the Classroom" today during a special faculty meeting at the school, where she teaches fifth grade.
 "Mrs. Lynch is my child's hero as well as my hero," said Teresa Caraveo, a Broadview Thomson student's parent. "This very special teacher gives her heart and soul to all of her students, dedicating time above and beyond regular school hours to help them understand and even love math. She arms them with the tools they need not only to learn and grow, but also to be responsible for themselves. She is a gift to all of us." Caraveo and a former student nominated Lynch for her Symetra Hero in the Classroom award.
 Lynch is one of 24 K-12 teachers across the Puget Sound area that will be honored for educational excellence in the Symetra Heroes in the Classroom program during the 2010 NFL season. Teachers are recognized in front of their students and peers at surprise in-school presentations. In addition, they receive tickets to a Seahawks home game and are acknowledged during on-field presentations at Qwest Field. Lynch will be recognized at the Dec. 5 game when the Seahawks take on the Carolina Panthers.
Teachers may be nominated by their principal, district staff, student or student's parent. The winners are selected based on their ability to balance the core curriculum with students' individual needs; build trust among students, parents and the community; and invest in their students' long-term success.
 In addition to honoring exceptional teachers on and off the field, each of the schools represented by a 2010 teacher Hero will be eligible for an MVP Award, which provides funding to enhance learning in Seattle-area schools. Three $10,000 grants will be awarded at the end of the 2010 football season.
 More information about Symetra Heroes in the Classroom is available at www.symetra.com/heroes. 
Symetra Financial Corporation (NYSE: SYA) is a diversified financial services company based in Bellevue, Wash. In business since 1957, Symetra provides employee benefits, annuities and life insurance through a national network of benefit consultants, financial institutions, and independent agents and advisors. For more information, visit www.symetra.com.