The Green Lane on N 130th St.
This past summer Seattle Department of Transportation (SDOT) changed the striping on N 130th St. between Linden Ave. N and Greenwood Ave. N, as part of the 2010 Pedestrian Master Plan Early Implementation.  The goal of the changes is to improve safety, pedestrian access and bicycle usage.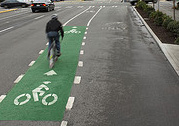 A new feature in our neighborhood is the green portion of the bike lane as you approach Greenwood Ave. N from the east.  Green bike lanes highlight areas where bicycle and cars cross paths, in this case where cars move over into the right hand lane to make a right turn onto Greenwood Ave N. Motor vehicles should yield to bicyclists in green bike lanes. Bicyclists should be alert and look for motor vehicles crossing green lanes.  Green bike lanes and bike boxes are being installed as part of the Bicycle Master Plan.