Updates on Our Community Meetings
Broadview Community Council Meeting
May18,2010    
About 50 community members attended the May 18 Broadview Community Council meeting where Captain Robin Clark North Precinct Commander Seattle Police Department, Sergeant Dianne Newsom Community Police Team Lead and Neil Hansen Crime Prevention Coordinator answered questions about public safety issues.  Captain Clark urged people to call 911 when they see suspicious activity.  Sergeant Newsome described the role of the Community Police team, and urged people to contact her with concerns about chronic crime problems.  Neil Hansen urged blocks that don't have a block watch to call him to come out and help organize one.  Captain Clark reported that although the spike in residential burglaries in Broadview has flattened down to the "normal" level, the involvement of community members in crime prevention and reporting suspicious activity is still important.    
Upcoming events at the North Precinct
Open House and Picnic at the North Precinct    
July 10,2010 1-4    
10049 College Way North    
Food,music and Precinct Tours sponsored by the Seattle Police Foundation   
______________________________________________________________________________________________________________________________   
What You Need To Know About Residential Sellers
By Ed McKenna   
 Seattle City Attorney Office   
 We're all familiar with residential sellers, also known as solicitors, traveling salespersons, or door-to-door salespersons.   What you don't know about them however, might just hurt you.    
 I recently received a phone call from a family member of an elderly resident.  The family member explained that the prior week, a solicitor knocked on the door, and proceeded to talk the elderly resident into an expensive burglar alarm system.  The elderly resident signed a contract that not only provided for the installation of the alarm, but also included an expensive monitoring fee, far in excess of that normally charged by reputable alarm companies.  What's more, the contract included expensive penalties for early termination and even costs for the removal of the alarm at the end of the contract.  Was there a violation of the law in this situation?  Probably not.  What's that have to do with public safety?  Plenty.    
 Most of us feel comfortable at our homes. Our homes are our castles, and many of us don't mind opening the castle gate to perfect strangers, whether they sell scout cookies, magazines, newspapers, frozen steaks, brushes, vacuum cleaners, or alarm systems.  Many are legitimate.  Most are not.  Some are simply dangerous.  A quick Google search for  'traveling sales crews" gives reason to pause before opening your door to strangers.  Web titles such as "Magazine solicitor nabbed in sex case", "Magazine salesman assaults resident who refused purchase", "Salesmen suspected of burglary, forgery", "Magazine salesman convicted of assault", "Three arrested for deceptive sales", "Magazine salesman pleads guilty to rape". The list is endless.  Like other major cities, Seattle also has its share of crime attributable to residential sellers.  Just recently, an elderly Wedegwood resident was assaulted and home burglarized by two persons who claimed to be residential sellers.      
 Vanloads of sales persons travel the circuit through the United States. Each year, I'm told stories of crime attributable to some of these persons.  Even when arrested, they simply bail out and skip town, never to be seen again to answer for their charges.  Misdemeanor warrants are not extraditable, so even if arrested in another state, they won't be returned to Seattle.  How do you know whether the solicitor at your door has a criminal history or is a wanted criminal suspect?          
 What can you do to protect yourself?  Don't open your door to strangers is the obvious answer.  Install a "peephole" so you can see who is at the door.  If you don't recognize the person, either inquire of their business through the door or simply don't respond if you don't recognize the person.   
 Most of us have signed up for the national "do not call list" so why should you have to listen to a sales pitch in your door.  Fortunately, Seattle has a law designed to stop residential sellers before they pester you.  Seattle Municipal Code section 6.260.050 provides that it is illegal to gain admittance to property for the purpose of selling at any residence bearing a sign stating "No Solicitors", "No Peddlers", or words of similar effect.  If a solicitor violates the sign and continues on your property, it could constitute the crime of criminal trespass.  Likewise, if you simply tell a solicitor to leave and they continue to try to sell, they are trespassing.  Call 911 to report the incident.    
 Seattle has many other laws regulating residential sellers.  For instance, sellers cannot sell after 9:00 p.m., they may not make deceptive or untrue statements, and they must, with limited exceptions[1], possess a residential sellers license, or a residential sellers agent card issued by the City.  Many solicitors carry flashy cards around their necks in an attempt to look official, but very few are legitimate.  In fact, a recent check revealed only four businesses had licensed residential sellers in Seattle.    
 Let's say that you're caught in a moment of weakness and decide to purchase some snake oil from a door-to-door salesperson.  After reflecting on the fast-talking salesperson and your lighter wallet, you decide you were taken advantage of.  What can you do?  Fortunately, there is some assistance.  Under most circumstances, the law provides a 3-day cancellation period.  You must cancel in writing no later than midnight of the third day after the sale, other wise you're on the hook and obligated to complete the transaction and pay the contracted amount.  Of course, if you already ate those scout cookies, this provision doesn't apply.    
  For more information, contact the City's Revenue and Consumer Affairs department at 684-8484              
---
[1] Exceptions include newspaper (not magazine) sellers, perishable food sellers (candy) utility agents, and home sales parties.  _______________________________________________________________________________________________________________________________________ 
Scott Ringgold from Seattle Dept. of Planning and Development
Great turn-out   
March 13,2010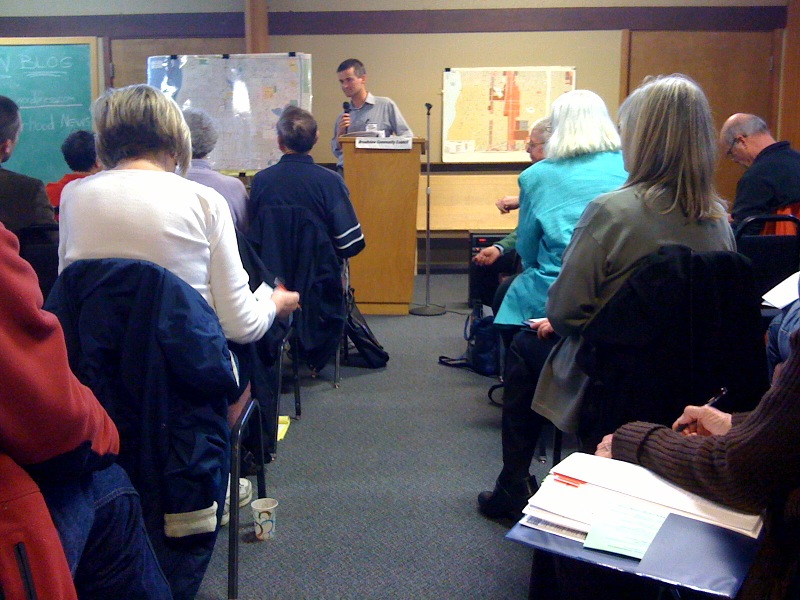 Some skepticism was voiced at the community meeting. The City Vision of 2020 for Broadview-Bitter Lake – Haller Lake was written in 1999 with very little follow-up.  What will make the New Plan different?   
Scott Ringgold has his work cut-out for him.   
Taking a look at the proposed parks in Broadview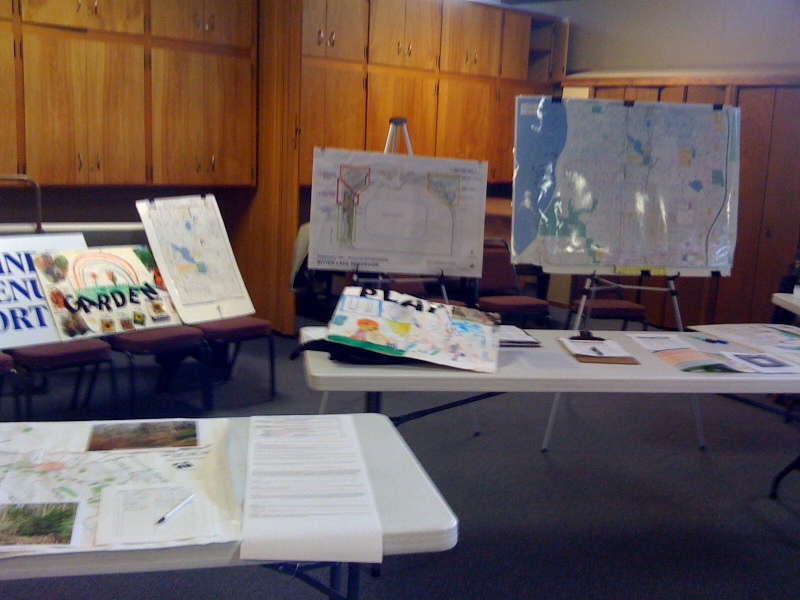 Thank you for your hard work…and just maybe we will get some of that Seattle Park Levy Opportunity Fund.